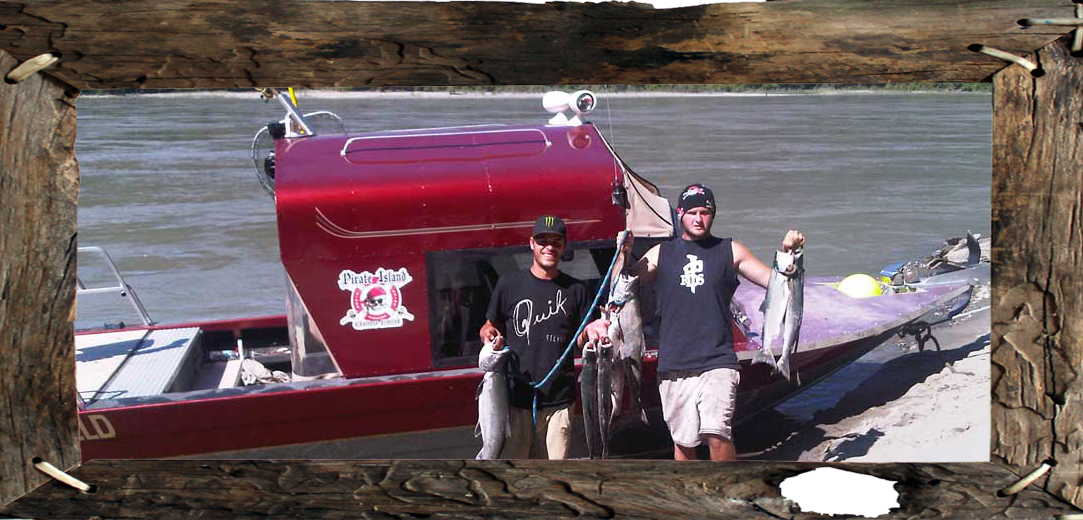 Guided Salmon Fishing Charters on the Fraser River

Enjoy breathtaking scenery by boat on one of the world's largest salmon rivers! The Fraser River and tributaries see millions of pacific salmon return to the river to spawn every year. Sockeye, Pink, Chum, Chinook, Coho & Steelhead all migrate upriver to the gravel beds for spawning.
A Fraser River sport fishing adventure with Pirate Island Fishing Charters offers guests a rare experience afforded few visitors to the area. An impeccably maintained and outfitted 26' Custom Weld and licensed guides (never sub-contracted) - put it all together and you've begun to picture your guided salmon fishing experience on this famous river.
Whether you're a novice or experienced sportfishing enthusiast, you'll discover that salmon fishing on the gravel bars of the Fraser River is unlike any other sportfishing experience you've ever had.
Make no mistake, our #1 goal is doing everything we can to help you catch the fish of a lifetime! We are experienced, licensed guides who not only work & play on the Fraser River, we live here too. So contact us and let's talk fishing today!
Spring salmon and chinook run May to December with sockeye salmon arriving late August and finally steelhead from November through to March.
Full day (8am – 3pm) based on max 4 people starting at $900.00
Half day (8am – 12pm) based on max 4 people starting at $500.00
Included – fishing rod, gear, and shore lunch (lunch included on full day only)
Not included – Fishing license, accommodations, personal wear
Sturgeon Fishing - May 1st
Half day trips starting at $450
Full day trips starting at $900 (8am - 3pm)
The White Sturgeon is the largest species of sturgeon in North America, and the largest freshwater species in North America. These large fish can grow up to 6 meters long and weigh an incredible 600 kg with a prehistoric look and a potential lifespan over 100 years.
Fishing sturgeon on the Fraser River is a unique, world class experience. There is nothing like the jump and roll of a hooked sturgeon - a 250 lb catch can pull the tip of a rod in the water and that's just a small one! There are monsters in the Fraser River - and the most exhilarating catch & release you will ever hook!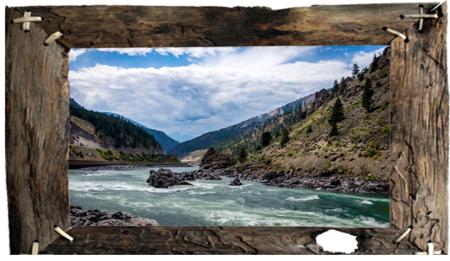 Scenic River Boat Tours
We offer scenic jet boat tours for all types of adventures - relaxing, scenic and thrill-seekers can all enjoy your time with Pirate Island Charters. Whatever your speed, whether birdwatching or white water jet boating, we'd be happy to offer our experience and knowledge of the area for your enjoyment! You will see the Fraser Canyon from the river - an experience very few people will ever have.
WwewwwSpecialty Jet Boat Tours
If you are seeking a thrilling ride on the Thompson River or a scenic, relaxing day taking photos and exploring the Fraser Canyon, we can provide you and guests with some of the most incredible action, scenery, birds & wildlife you'll find in British Columbia.
Half day scenic trips starting at $400
Please call for additional pricing information on custom trips.
Birthdays, Bachelor Parties, Gifts, Team Building Corporate Groups, Family Adventures ~ Check Out Our Calendar & Book Your Trip!